In 2018, Apple stock will climb toward $200 – and the company's market cap to $1 trillion – thanks in part to the new iPhone X that was announced yesterday (Tuesday).
The annual September event is the key to Apple Inc.'s (Nasdaq: AAPL) success for the next year. The new products it introduces are sold not just in the upcoming holiday quarter, but through the next 12 months.
New iPhone models, in particular, are critical – the product accounts for about two-thirds of Apple's revenue.
How well these products fare determines the direction of AAPL stock. And this year's crop looks destined to send Apple stock high enough to reach the $1 trillion valuation milestone.
Here's a brief look at what Apple unveiled today…
Meet the Products That Will Drive Apple Stock Toward $200
Apple introduced new models of three of its products: the Apple Watch, Apple TV, and of course, the iPhone.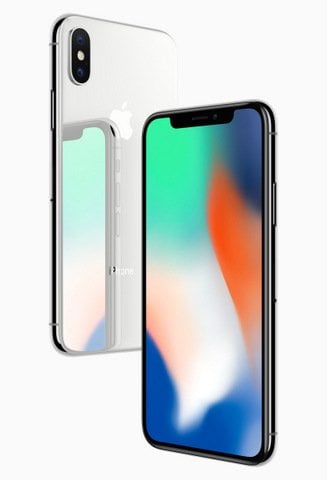 Apple Watch: The thing to know about the Series 3 Apple Watch is that it no longer needs to be tethered to an iPhone to access wireless data. It has its own cellular chip now. Apple claims its new Watch is also an impressive 70% faster and has "all-day battery life." These new features could jump-start sales of a product that has had adequate sales to date but hasn't really taken off.
Apple TV: Apple's set-top box will now support 4K resolution, which is four times as sharp as HD. It's also getting a processing chip that's twice as fast as well a fourfold boost to its graphics performance. That makes Apple TV a much better gaming device, a wrinkle added last year that hasn't gotten the adoption Apple would like. Apple also beefed up its content offerings, which now include live sports.
iPhone 8: The iPhone 8 models (a 4.7-inch and a 5.5-inch) feel more like interim upgrades (as were the iPhone 6s models), but the improvements are welcome. The iPhone 8 gets faster innards and better cameras, as you'd expect. The improved hardware enables more robust augmented reality features, particularly for gaming (think Pokemon Go).The marquee feature this time around is wireless charging. Instead of plugging the device in, users can just sit the iPhone atop a charging pad. Best of all, it's compatible with the Qi wireless charging standard, which many companies already have adopted.The biggest appeal to the average smartphone buyer is the default memory, now at 64 GB rather than 32 GB. That means twice as much room for photos and videos.
iPhone X: One of the most-rumored Apple products in Apple history also made its debut. It includes all the iPhone 8 improvements but has a screen that takes up the entire front of the phone. At 5.8 inches, it's slightly bigger than the iPhone 8 Plus.The physical home button is gone, with the unlocking feature now the realm of "Face ID," a sophisticated facial recognition technology. Apple says it can't be fooled by photos or masks.But what will get most of the attention is the $999 price tag – by far the steepest starting price ever for an iPhone. The long-suspected price has caused much consternation among analysts, who fear that even Apple fans will balk.Those fears are mostly unfounded. The iPhone X – along with its iPhone 8 brethren – will push sales to new records. That will drive up earnings and keep the AAPL stock price moving higher.
Here's why the new iPhones will make Apple a $1 trillion company…
Why the New iPhones Will Break Records
 First, it's important to point out that 81% of all iPhones in use today are iPhone 6s models or earlier. The iPhone 6 models, which debuted in 2014, comprise 30% of all iPhones in use.
So there's plenty of potential demand for the latest iPhones, despite the high cost of the iPhone X and the good-but-not-great improvements in the iPhone 8 models.
Apple's most devoted fans will buy the iPhone X regardless of the high price. These folks will have to have the top of the line. And frankly, when the cost is folded into the monthly payments, the sting won't feel so bad.
But the iPhone X will have wider appeal. For one thing, supplies will be constrained for the first several months. That scarcity will add to its appeal. Those who do land an iPhone X in those early months will have bragging rights.
The supply constraints will affect sales in Apple's Q1, but that's not really a problem – they just get pushed to Q2.
The high cost, oddly enough, will also enhance the appeal of the iPhone X. Owning one will project status, just as is the case with any pricey luxury brand.
And don't forget, for those who can't stomach the high price tag of the iPhone X, there are two new models priced more reasonably. The iPhone 8 starts at $699, while the iPhone 8 Plus starts at $799.
But both starting prices are higher than those of the iPhone 7 models. It means that especially with the $999 iPhone X, the average selling price (ASP) of the iPhone is going to rise substantially. And that's going to feed profits and boost earnings per share (EPS) over the next several quarters.
The iPhone ASP in Apple's current fiscal year is $653, according to FactSet. Even when you throw in a few sales of the lower-priced iPhone SE (about $400), it's clear that's going to rise to close to $700.
FactSet also estimates that iPhone unit sales will increase from 217 million this year to 247 million in 2018. At the higher ASP, that translates to a $30 billion increase in revenue year over year, good for about $10 billion more in profits.
Apple's EPS will increase to $10.85 in 2018. Assuming the price-to-earnings ratio remains at about 18.3, where it is now, the Apple stock price will be $198.55. And that puts Apple's market cap over $1 trillion.
And even if the iPhone sales fall a little short, Apple is also expected to continue to grow its very profitable services business as well as its Watch sales. According to FactSet, analysts see Apple services revenue growing 16.2% over the next year and Watch revenue growing 12.7%.
Written by:  
Source: Money Morning
Interesting Links: