Lender had record second-quarter earnings on higher rates
Trading revenue dropped 14%, casting doubt on year-long rally
Jamie Dimon proved JPMorgan Chase & Co. doesn't just rely on traders for profits.
The bank earned $26.5 billion over the past 12 months, the most ever by any major U.S. bank. While trading results reported Friday were worse than analysts expected, second-quarter net income set a record and the company said it will increase loans to companies and consumers this year at a rate that's double what analysts predicted.
The biggest U.S. bank kicked off earnings season for the industry, offering insight into how Wall Street trading and advisory and Main Street lending businesses performed. Following a first quarter in which most firms posted better-than-expected trading results, executives including JPMorgan Chief Financial Officer Marianne Lake tempered expectations, saying trading revenue was 15 percent lower in April and May from a year earlier because of muted volatility.
JPMorgan overcame that with record revenue from its commercial bank and record profit at its wealth-management division. The lender also benefited from interest higher rates as the Federal Reserve raised its benchmark lending rate for the third time in six months in June.
Markets revenue fell 14 percent. The trading decline raises questions about whether the rebound in bond trading over the past year is at risk of stalling. In late May, Lake said that markets were subdued because of uncertainty over the path of interest rates amid questions about U.S. policy and economic growth. Banks needed idiosyncratic events of the kind that helped boost trading in 2016 — the U.S. election and U.K. referendum, for example — to change that dynamic, she said.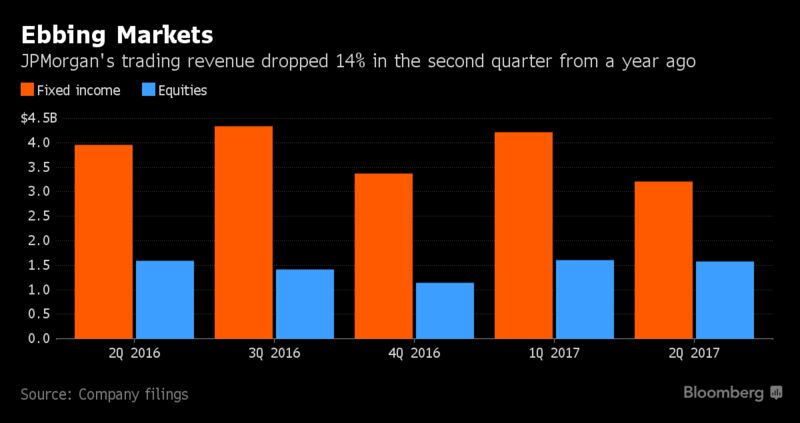 Shares of the company fell 1 percent to $92.20 at 7:58 a.m. in New York. They've gained 7.9 percent this year through Thursday.
Record Results
JPMorgan's total profit in the past year surpasses the $25 billion Citigroup Inc. earned in the 12 months ended in June 2006, according to data compiled by Bloomberg.
Still, JPMorgan has further to go to reach its own targets for costs and return on equity. The lender is seeking to ramp up the latter measure by paying out more capital to shareholders. Last month, it won approval on its plan to increase its quarterly dividend 12 percent and ramp up share repurchases to $19.4 billion over the next 12 months — roughly 90 percent more than in the prior year.
Net income rose 13 percent to $7.03 billion, or $1.82 a share, from $6.2 billion, or $1.55, a year earlier, the New York-based company said Friday in a statement. That beat the $1.58 estimate of 23 analysts surveyed by Bloomberg, helped by a $406 million gain from a legal settlement.
Companywide revenue rose 5 percent to $26.4 billion, which exceeded analysts' average estimate of $25.4 billion. Higher interest rates and loan growth fueled an 8 percent increase in interest income to $12.5 billion. The firm's provision for credit losses shrank to $1.2 billion from $1.4 billion a year earlier.
Written by: Hugh Son
Source: Bloomberg
Interesting Links: