From rooftop dog parks to machine learning lifts, WIRED gets rare access to Amazon's offices in Seattle
DAY ONE AND DOPPLER
The pair of 36-story towers were opened in 2016 and are the centrepiece of the newly designed Amazon campus. Doppler refers to the original code name for the Amazon Echo, while Day One is a reference to founder Jeff Bezos' mantra, laid out in his original 1997 shareholder's letter: "This is Day 1 for the internet and, if we execute well, for Amazon.com." Two decade's later, his 2017 letter reminded Amazonians: "Day 2 is stasis. Followed by irrelevance. Followed by excruciating, painful decline. Followed by death. And that is why it is always Day 1." Construction has begun on a third tower, due to be completed in 2019.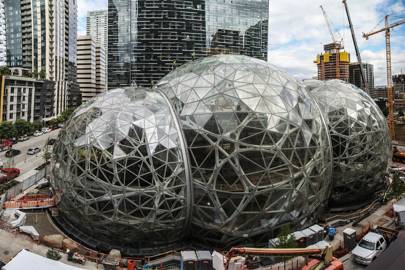 THE BIOSPHERES
The 30-metre-high trio of steel-framed biospheres, due for completion in early 2018, is wedged between the two towers. More than 300 plant species from 30 countries will be housed in the giant orbs at temperatures of up to 22C. Although it appears to be an Eden-like retreat, these spheres are for work, meetings, and work-related socialising, hence only select members of the public will get a peek inside as part of the Amazon HQ tours the company runs.
AMAZON GO
Amazon's first and only bricks-and-mortar grocery store, Amazon Go, opened in December 2016 and sits at the base of Day One. Despite rumours of 2,000 stores in the works, quickly refuted by Amazon, the store is still in beta and only open to Amazon employees. The no-checkout store operates via an Amazon Go app linked to your Amazon account. A Wall Street Journal article published in March attributed delays in opening to the public on technological kinks, and the fact the store would not be able to track more than 20 customers at once.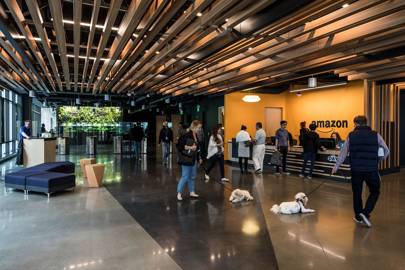 DAY ONE RECEPTION
In Amazon's Day One lobby, dogs feature as prominently as humans.
A store located within Day One means more convenience for Amazonians – and more time in the office.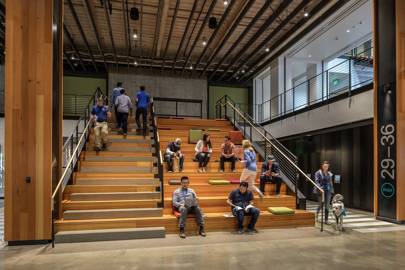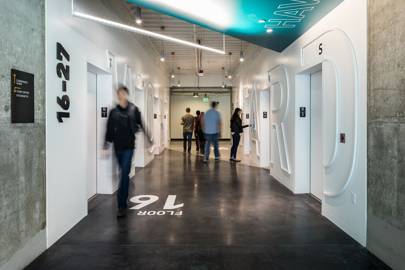 Amazon's lifts are fitted with machine learning technology that relies on staff inputting how many people are joining each ride. We're not sure what the grand plan for lifts is here, other than to learn to tell specific individuals they should really be taking the stairs. Or to track recreational lift riders/time wasters.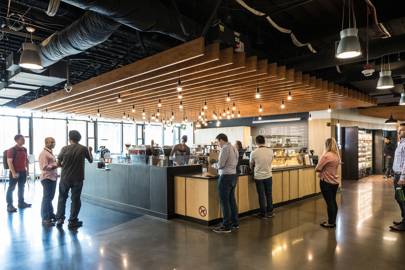 Another stab at keeping Amazonians in-situ and away from Seattle's many food trucks, this is just one corner of the vast canteen where pretty much any cuisine you have a hankering for is on offer.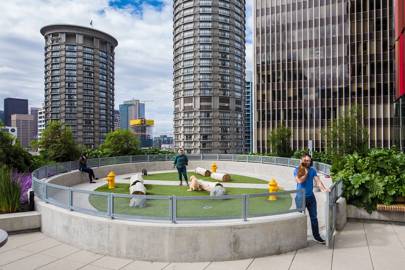 Amazon's HQ has two dog parks, one near the biospheres and one halfway up Doppler (pictured), in case the canines prefer a stroll with a view. Staff collectively own and bring to work around 2,000 pups.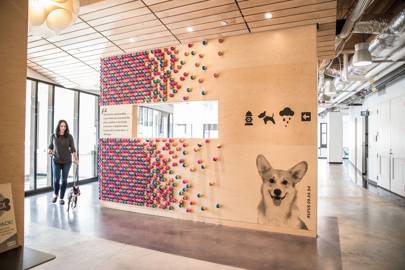 The dog that began it all, Rufus (bottom right) was brought to work in Amazon's earliest days by its then editor-in chief and principal engineer. There is even a building in Amazon's South Lake Union campus named after Rufus, who died in 2009. The wall, which points to the rooftop dog park, also includes a review penned by a fellow dog lover about the colorful balls mounted to the walls.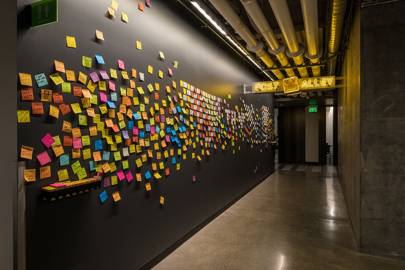 Amazon's craft room has scheduled classes, but staffers can drop in at any time to doodle to their heart's content.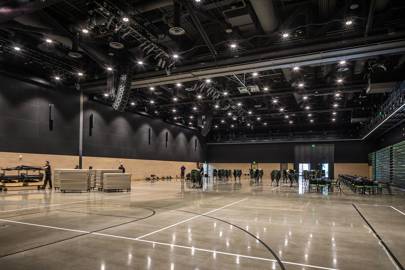 Written by: John Keatley
Source: Wired
Interesting Links: