Big reveals from AMD, Intel, Nvidia and more.
Computex 2017 runs all this week, with the biggest brands present at the huge event in Taipei, Taiwan. It's arguably the most important show of the year for the desktop, laptop and components you'll want to buy.
This is the show for folks who are left disillusioned by the lack of overclocking competitions and talk of gigahertz and teraflops at more mainstream tech expos, like CES in Las Vegas.
While we've already seen some of the wares that key computer makers will show off, namely that of Acer and MSI, there's plenty more still behind all manner of curtains and veils.
However, recent leaks and announcements from the firms yet to break their big news of the show can help us make some educated guesses as to what we might see.
Here's everything we've seen so far (and what else we expect) from the biggest computing companies in Taipei from May 30 through June 3.
The launches of Computex 2017
Everything that's been launched at Computex 2017 so far…
Intel announces its next generation of Intel Core-X processors
Intel's keynote on Tuesday touched on a number of subjects, including smart cities and the future of computing.
However, it was the launch of its new line of Intel Core-X processors, including the incredible 18-core i9 CPU that really got us excited.
Nvidia Max-Q
Nvidia's keynote highlighted the launch of its Max-Q technology.
This exciting new tech will make gaming PCs more powerful, as well as lighter and slimmer.
Taking stock of Acer's new slimline Predator gaming laptop
We took Acer's Predator Triton 700 ultra-thin gaming notebook for a hands-on spin. It's a pricey behemoth of a machine, but can this notebook's svelte nature, mechanical keyboard and nifty cooling system justify the price tag?
Dell unveils a trio of new all-AMD desktops for media and gaming
Dell has spoilt us with three brand new, all-AMD desktop PCs. Specifically, an Inspiron all-in-one PC has been shown in both 24- and- 27-inch varieties, as well as a new gaming desktop in disguise.
Dell also took the Computex stage as the opportunity to unveil its first-ever Inspiron gaming desktop, designed to bring near-boutique gaming PC quality to buyers for far less than the real deal. We'll have hands-on reviews of these machines soon.
Gigabyte shows off its new Aorus gaming laptops
Gigabyte has given us a closer look at its Aorus gaming laptops at Computex 2017, with the Aorus X9, Aorus X5 MD and Aorus X7 DT all putting in an appearance.
Gigabyte also gave us global launch-dates for all its upcoming gaming laptops.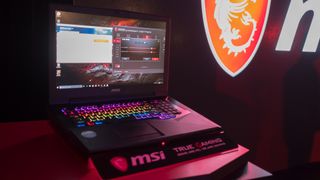 MSI takes the wraps off a beastly gaming laptop
MSI showed off its new monster of a gaming laptop, the GT75VR Titan, which benefits from an innovative low-profile mechanical keyboard and some top-notch hardware including a beefy Core i7 CPU (which can be overclocked to 4GHz) plus options on SLI graphics cards.
Spills and thrills with Corsair's new gaming keyboard
Corsair introduced a new mechanical keyboard, the K68, which is a hardy peripheral designed to withstand the likes of drink spills, being water and dust-resistant.
Test driving the new Asus ZenBook Flip S
Asus claims that the ZenBook Flip S is the thinnest convertible laptop in the world, and it won't break the bank either. We've been having a play with this 2-in-1 at Computex: can it deliver without making too many compromises?
Asus ZenBook Pro looks to be a svelte yet powerful laptop
Thin but powerful? It's a winning combination and one that the Asus ZenBook Pro seemingly nails with flair. Check out our full hands-on with this laptop which has the potential to be a smash hit for a number of reasons.
What we expect from Computex 2017
Acer
This firm based out of the very same country Computex is held annually has already shown its cards regarding the big show. With that, we know with certainty that we can expect to get hands-on time with Acer's Nitro 5 gaming laptop as well as its Acer Spin 1 2-in-1 laptop and new Android tablets with Quantum Dot displays.
Having just come off of its massive annual media event in New York City this past April, chances are slim that we'll see much more from Acer during Computex. If we had to wildly guess, perhaps Acer will have more in PC gaming hardware to show off, that being a major focus of the show these days – just don't hold your breath.
AMD
Having been teasing its new
Vega
graphics chip architecture for what seems like eons now, AMD will perhaps choose Computex as the place we'll finally see new the first Vega graphics cards. After all, we've at least already seen the developer-grade
Radeon Vega Frontier Edition
. We have to be close to seeing the future of PC gaming on AMD hardware by this point.
Speaking of which, we've been hearing plenty over the past few weeks of the next wave of AMD Ryzen processors, the Ryzen 9 Threadripper series. Designed to compete with Intel's supposed Core i9 line of high-end chips, Threadripper will come rocking 16-core processors that may be slower than Ryzen 7 CPUs in frequency, but far more ready to handle multifaceted workloads.
Computex would be the perfect venue to showcase the power of not only Vega GPUs, but these new Threadripper CPUs as well.
Asus
This is one of the firms we know the least about in regards to what it might have to show during Computex 2017. That said, we do know that Asus will hold press conferences for both its core, eponymous brand and its gaming brand, Republic of Gamers (ROG).
We've heard murmurs of the next Asus Zenbook Flip, the UX370, to succeed the current UX360, which we enjoyed quite a bit. On the gaming front, Asus ROG has outright teased a gaming laptop powered by Ryzen to be shown at Computex in the above looping video. Here's to hoping that's an all-AMD build with graphics that rhyme with "mega".
Dell
Frankly, we've seen very little in the way of leaks and rumours in the lead up to Computex, which doesn't give us much, if anything, to go off of. However, one thing that we're at least hoping to see in more detail is Dell's head-mounted display for Microsoft's Windows 10 Holographic program.
With the headset expected to launch later this year alongside the rest of the lot, Computex would be a fine place to demonstrate its capabilities. We know for a fact that Dell will hold a press event during the show, so hopefully, this will be the place to see Dell's big dip into virtual reality – sorry, "mixed reality," if you're asking Microsoft.
Intel
The one thing we expect to hear more about from Intel at Computex is its rumoured Core i9 line of processors. According to leaks, this new echelon of Intel CPUs will include new Skylake-X and Kaby Lake-X models ranging from octa-core to dodeca-core dies.
Of course, the logic here is that Intel is preparing its defences for the oncoming assault of AMD's Threadripper Ryzen 9 processors. However, unlike AMD, Intel has yet to make anything official. The firm should change that during its press event scheduled during Computex.
Nvidia
This is another one of those component firms that won't officially say much, if anything, about its plans (unlike a certain rosy rival) until it's ready to discuss them in full. That said, Nvidia does tend to be leaky, and so we have talk of the firm's Volta GPU architecture being prepared for a Q3 2017 launch, meaning any time after the end of June.
And, whaddya know, that's just in time AMD Vega's expected debut. Specifically, sites like WCCFTech report to have heard that Volta will be brought to bear through GTX 20-series GPUs.
If this is what Nvidia truly has in store for its Computex press event, then this ought to be a knock-down, drag-out summer for the red and green teams.
Qualcomm
Finally, we have the company that stands to shake up the show the most: Qualcomm. The firm has been largely silent on its plans to work with Microsoft to bring Windows 10 x86 app emulation to its next generation of Snapdragon processors since they were first announced last December.
It's potentially the lynch pin in Microsoft's mobile ambitions moving forward. Again, Computex would be the time to demonstrate how Qualcomm's technology works and what types of new mobile devices running Windows 10, much less any, that it can enable.
It's potentially the lynch pin in Microsoft's mobile ambitions moving forward. Again, Computex would be the time to demonstrate how Qualcomm's technology works and what types of new mobile devices running Windows 10, much less any, that it can enable.
It's potentially the lynch pin in Microsoft's mobile ambitions moving forward. Again, Computex would be the time to demonstrate how Qualcomm's technology works and what types of new mobile devices running Windows 10, much less any, that it can enable.
Written by: 
Source: TechRadar
Interesting Links: