Pay adjusted for inflation drops 0.5% between March and May
Unemployment falls to 4.5% as economy creates 175,000 jobs
British consumers are continuing to see their spending power eroded by feeble wage increases and the rising cost of living, despite unemployment falling to a 42-year low.
Regular earnings rose 2 percent in the three months through May from a year earlier, up slightly from April but well behind the rate of inflation, the Office for National Statistics said. As a result, real pay fell by 0.5 percent.
That figure is forecast to turn increasingly negative as consumer-price inflation pushes past 3 percent, driven by the fall in the pound since the Brexit vote.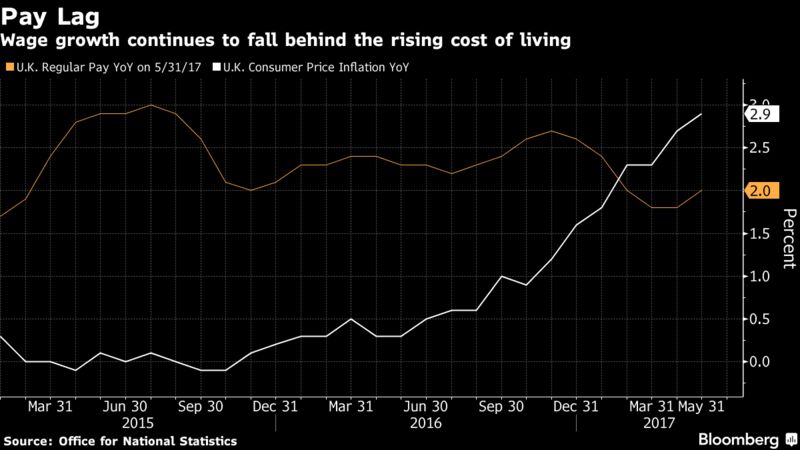 Pay remained subdued even though the latest three months saw healthy demand for labour. Unemployment fell 64,000, taking the jobless rate to 4.5 percent — the Bank of England's equilibrium rate. Employment climbed 175,000, the most since the end of 2015, to a record 32 million. The number of unemployed people per vacancy fell to a record-low 1.9.
"Despite the strong jobs picture, there has been another real-terms fall in total earnings, with the growth in weekly wages low and inflation still rising," said ONS statistician Matt Hughes.
The figures underscore the dilemma that has split Bank of England policy makers over whether to raise interest rates.
The squeeze on living standards is sapping consumer spending, the engine of the British economy, yet a three-person minority pushed for an increase last month to curb inflation.
Wait and See
Governor Mark Carney says he is waiting to see how the economy responds to the start of Brexit talks and whether investment picks up to compensate for the downturn in consumer spending, a development seen as unlikely by many economists.
The wage data will also increase pressure on Prime Minister Theresa May, who has been facing calls to lift a pay cap for millions of government workers after she lost her parliamentary majority last month.
Earnings in the public sector rose 1.4 percent in the latest three months. Private-sector pay increased 2.2 percent.
Total pay including bonuses rose 1.8 percent, the least since the end of 2014. Adjusted for inflation, it fell 0.7 percent, the biggest drop since August 2014. The ONS said the figures were affected by the timing of bonuses payment, which posted a 2.3 percent drop on the year.
Written by: Emma Charlton
Source: Bloomberg
Interesting Links: